Welcome to Top Five Tuesday, where today we're learning Meeghan is a woman of taste. This month's themes are in tribute to the Avatar series and we are now travelling to the Earth Kingdom, where they don't encourage this sort of behaviour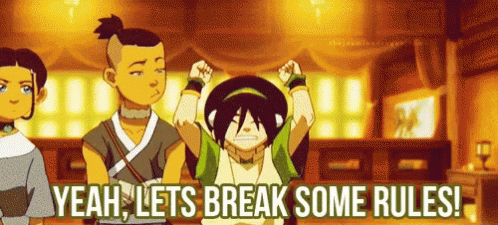 At all.
Top 5 Tuesday is a weekly meme created by Shanah, the Bionic Book Worm, and now hosted by Meeghan at Meeghan Reads.
Let's talk books.
She Who Became The Sun by Shelley Parker-Chan
We'll start with a book quite reminiscent of the Earth Kingdom. Big sophisticated societies at risk from bitter internecine feuding? Complex webs of loyalty and duty? Genteel courtesies over earthy ambitions? Well, it's not really a surprise. The Earth Kingdom draws more from historic China than any other part of the Avatar world, and that's exactly the time period depicted in Parker-Chan's sensational debut novel.
The Wounded Kingdom by RJ Barker
This series is also very strong on its feuding and complicated loyalties. There's also an intense focus on the land, although more in a shamanic, vaguely Fisher King-esque healthy of the land way than simple marveling at grand landscapes. The big similarity I am drawing on here is Girton is disabled and so is Toph, the charismatic and rumbunctious Earthbender who joins Team Avatar in the show.
Colours in the Steel by KJ Parker
Two major developments in the Earth Kingdom over the course of the show are many, many sieges and mastery over metal. To represent this, I give you a book in which a city withstands a siege and in which mastery over metal is a common theme. The fact that Tom Holt's debut as KJ Parker is a very fine read in its own doubt on the dark, bleak, barely fantastical lines of fantasy only helps.
The Winnowing Flame Trilogy by Jen Williams
The problem with the Earth Kingdom's size and diversity is that it's hard to pick good representations. So I'm going with a series that is brimming with colour, humour, and action. Strange and mysterious animals? Tons of societies? Rebels against strange social conditioning? And to top it off, the Earth Kingdom seems to have most of the show's cheerfully cranky and independent minded ladies, something we see occasionally in the The Winnowing Flame too.
The Rise of Kyoshi by FC Yee and Michael Dante
Of course, if you want a book that's like the Earth Kingdom, why not go to source? There are novelisations of the Avatar universe, and I've heard good things about this one about Kyoshi, fan favourite and Earthbender extraordinare.
There we go. Top Five Tuesday, only one day late. Let me know what you think.