Welcome to Top Five Tuesday, where today we're learning Meeghan is a woman of taste. This month's themes are in tribute to the Avatar series, starting with the Element where it all began: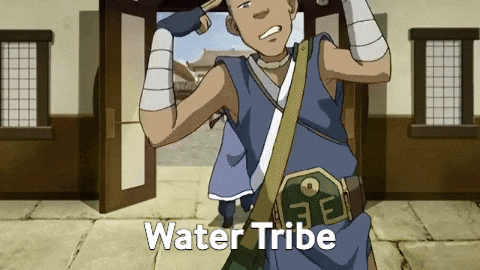 Top 5 Tuesday is a weekly meme created by Shanah, the Bionic Book Worm, and now hosted by Meeghan at Meeghan Reads.
Let's go!
Northern Lights by Philip Pullman
Alright! The Water Tribe can mainly be found in polar areas, on account of them being full of water, and you know who else you find polar areas? Lyra Belacqua up to no good. She also spends a good amount of her time prior to that on a riverboat so plenty of water.
Fevre Dream by GRR Martin
You can also find Waterbenders in the swap. I've never read Martin's Southern Vampire novel, but since it involves a riverboat captain in a swap it's clearly just the ticket. Also Vampires tie in nicely with the creepy blood-based compliance thing some Waterbenders can do…
The Bone Shard Daughter by Andrea Stewart
Know what else features a ton of sailing and water, along with some creepy compliance shenanigans? Well you do know because I just put the name up there. I wasn't a huge fan of this but it's a fantastic fit for this, particularly as Stewart's world draws on some of the same East Asian inspirations as the Avatar shows.
The Goddess Project by Bryan Wigmore
A (maybe) brother and sister on a strange magical quest on a big old boat? Yeah, that rings some bells. The Goddess Project is more of a riff on the Edwardian era and conspiracy thrillers but is no less captivating for that.
The King's Buccaneer by Raymond E Feist
Let's end with one of my favourite seafaring fantasy novels. Feist's tale is one of those classic adventure yarns, full of strange magics, threats to the world, coming of age, and in this case, the sea. It also features lots of family dynamics which is perfect for reppin' the Water Tribe, for as Uncle Iroh said:
"Water is the element of change. The people of the Water Tribes are capable of adapting to many things. They have a sense of community and love that holds them together through anything."
I think The King's Buccaneer fits that pretty well.
That's my Top Five Tuesday – let me know what you think of the choices