This week for Wyrd and Wonder's Fantastic Fives it's all about magical creatures. Five to be precise: the dragon, the phoenix, Pegasus, the raven and the wolf – creatures that have each stood as mascot for Wyrd and Wonder, or the Spooktastic Reads mini-event, over the years.
Dragon
There are, unsurprisingly, a lot of options here for me. There's The Hobbit, of course, and there's Pern and Temeraire. Guards!Guards! has a lot of dragons, and so does James Barclay's underrated Heart of Granite. Aliette de Bodard's wonderful Dominions of the Fallen is rich with Vietnamese dragon lore and was nearly my choice, but I went with Katherine Kerr's A Time of Justice, which features a rather imperious and fascinating sample of the breed.
Phoenix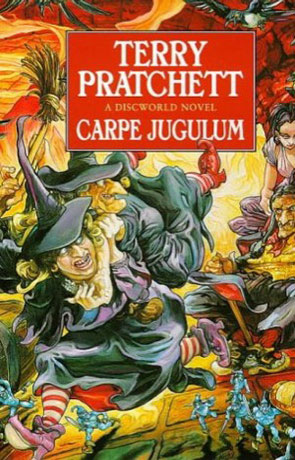 I'm afraid to say I had a one track mind here, although others have reminded me I should revisit Kuang's The Poppy War. Where my mind led me is Sir Pterry's Carpe Jugulum. There the phoenix is an interesting mix of myth and possible reality, a symbol of the book's themes and intriguing actor all at once.
Pegasus
This one was a struggle until Imyril reminded me there's a winged horse in The Fionavar Tapestry. It's a bit of a spoiler for our fellow intrepid travellers between worlds, but not much as it is on the cover. And it's the only one I've got, so copy Imyril's homework it is.
Raven
Well this one was pissing hard. Fantasy contains a ton of ravens. But they're mostly in books I don't like, with the exceptions being authors I've already used. This is weird to me as I like ravens a lot in mythology, but they seem a sure way of getting me to dislike a book. I don't understand. Anyway, thankfully, Bryan Wigmore's The Empyreus Proof features a raven spirit guide that fits the bill, and I do really like the book.
Wolf
My genre brings all the wolves all the yard and they're like,
it's better than yours,
I could teach you but I'd have to enchant
A Song of Ice and Fire. The Fionavar Tapestry. Pratchett's fantastic The Fifth Elephant. Tolkien had them, Eddings had them, Anna Stephens and John Gwynne have them, Hobb and Carter and Pierce and and so do a great many stories, without even considering shapeshifters or books with anthropomorphic characters. They're maybe the most fantastical creature of all other than the dragon. I decided to go with a classically wolf obsessed fantasy in The Wheel of Time, but it could have been any and all. Keep making fantasy wolfy, my friends.
And that's it! Let me know what you thought of.